I know you've spent the last couple months staring at your inbox, awaiting my return with bated breath. No fear! I'm back, and with a new and improved website! Please check it out.
An update on the book: The book has been sent out to beta readers for feedback! Depending on whether I hear, 'THIS IS FABULOUS, DON'T CHANGE,' or 'ERM, WHAT'S YOUR BACK UP PLAN?', there will be another edit and several fights. Then, we're off to agents! It's a thrilling, process, really. Want to read the prologue and a bit of chapter one? You can do so, here.
All right, let's get to it. Here are my favorite books from the last few months:
The Song of Achilles
"We were like gods at the dawning of the world, & our joy was so bright we could see nothing else but the other." ― Madeline Miller, The Song of Achilles
Patroclus, an awkward young prince, has been banished from his homeland. Achilles, son of the great King Peleus, is everything Patroclus is not: handsome, strong, and 'The best of all Greeks.' Despite their differences-and knowing the gods are against them- two become inseperable. When Achilles is called to war, Patroclus, torn between love and fear, follows. Soon, the merciless Fates take hold, testing them both like never before.
What I liked:
Heartbreaking in a 'does love that pure exist' kind of way.
Like reading Romeo and Juliet: You want to step in and save the characters from themselves.
What I needed:
Overall: *****
There are books you want to clutch to your chest when you've finished reading. This is one of them. If you're not a fan of Greek Mythology (high school flashbacks, anyone?) don't let that sway you away from picking up The Song of Achilles.
Note: Written by a high school classics teacher, TSOA is based on the Illiad.
Radar says: **** I didn't know puppies could ugly cry.
This Tender Land
"If we were perfect, the light he shines on us would just bounce right off. But the wrinkles, they catch the light. And the cracks, that's how the light gets inside us. ― William Kent Krueger, This Tender Land
1932, Minnesota. Hundreds of Native American children have been separated from their parents and sent to the merciless Lincoln Indian Training School. Orphaned brothers Odie and Albert, despite being the only white faces at the school, are on less than good terms with the superintendent. After they commit a grievous crime, the boys, along with their friend Mose and a struggling girl named Emmy, flee for their lives. The four vagabonds travel the Mississippi River, encountering other lost souls and adventures as they attempt to find a place to call home.
What I liked:
Modern-day Huck Finn
Literary fiction, adventure, & mystery
Beautifully, beautifully written.
What I needed:
Nothing. This is a nearly 500-page tome and still, I could have kept reading!
Overall: ****.5
Heart-warming, emotional, and healing: This book is a big hug. Krueger's characters, landscape, and prose are vivid and unforgettable. By the time you're finished, you will feel as though you've traveled the Mississippi and emerged renewed. Read this book!
Radar's Review: * I thought it said, 'This Tender Lamb.' Highly disappointed. Not a cookbook!
Book Lovers
"Sometimes, even when you start with the last page and you think you know everything, a book finds a way to surprise you." ― Emily Henry, Book Lovers
Nora Stephens is a dogged literary agent… and the anti-heroine of her own story. When her sister, Libby, persuades Nora to spend the summer in quaint Sunshine Falls, North Carolina, the last person Nora expects to find is Charlie Lastra—the grump but surprisingly cute editor she just met back home.
What I liked:
Turns the classic Hallmark-movie trope on its head.
Characters with real depth and dimension.
Funny from the start. Great one-liners.
What I needed:
Overall: **** (within its genre)
Another great beach read from the author of Beach Read! If you're looking for a cozy, feel-good life-affirmation with a tinge of heartache, you'll love Book Lovers.
Note:
All women really want is someone to look at them the way Charlie looks at Nora and say, "You [redacted] undo me."
Radar's Review: **** "You undo me." Can we go play now?
That's it! Thank you for reading and please, don't forget to share and like!
Read on,
Cat
Want more? Find me on… Instagram: @catreadsandwrites Twitter: @catcastell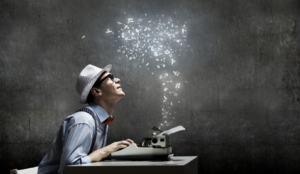 I know you're out there. You, with that idea percolating in the back of your head, those pages shoved in the bottom of the junk drawer. Maybe you've just never gotten around to it, maybe kids/work/life got in the way, or maybe you got distracted by a saner project.
Either way, you are not alone. You may have imagined yourself toiling away behind your keyboard at all hours and grinding your teeth from too much caffeine, but it doesn't have to be that way. (Okay, not all the time). Here are a few things to help you get started:
NaNoWriMo.
Short for National Novel Writing Month, NaNoWriMo is a non-profit foundation (You know you've got a common problem when a foundation is created to conquer it) as well as a challenge to help you, YES YOU, write a book. Every November 1st, thousands of wannabe writers dedicate themselves to writing 50,000 words in 30 days. One of my favorite books, Mr. Penumbra's 24-Hour Bookstore, was born of NaNoWriMo. Check out the NaNoWriMo site for resources.
Tempany Deckert's Write A Novel, Change Your Life Course
The universe sent me on a date with a guy (I think his name started with a J?) who had taken a writing course with Tempany Deckert, author of 18 novels and professor at UCLA. After one phone call with Tempany, I was hooked. I took her class privately but Tempany now offers her Write A Novel, Change Your Life course online. In just ten weeks, Temp will help you write your book from start to finish. This is how I got my initial draft. She is still my writing coach (and therapist) on the days I feel like tossing the whole thing into a fire.
Scrivener:
I used to write in Google Docs. It was a disaster. (Kudos to anyone who did this stuff with pen and paper.) Scrivener streamlines the writing process by allowing you to have your manuscript notes, research, and more, all in one place. Here's an example of what my app looks like when I'm writing an article: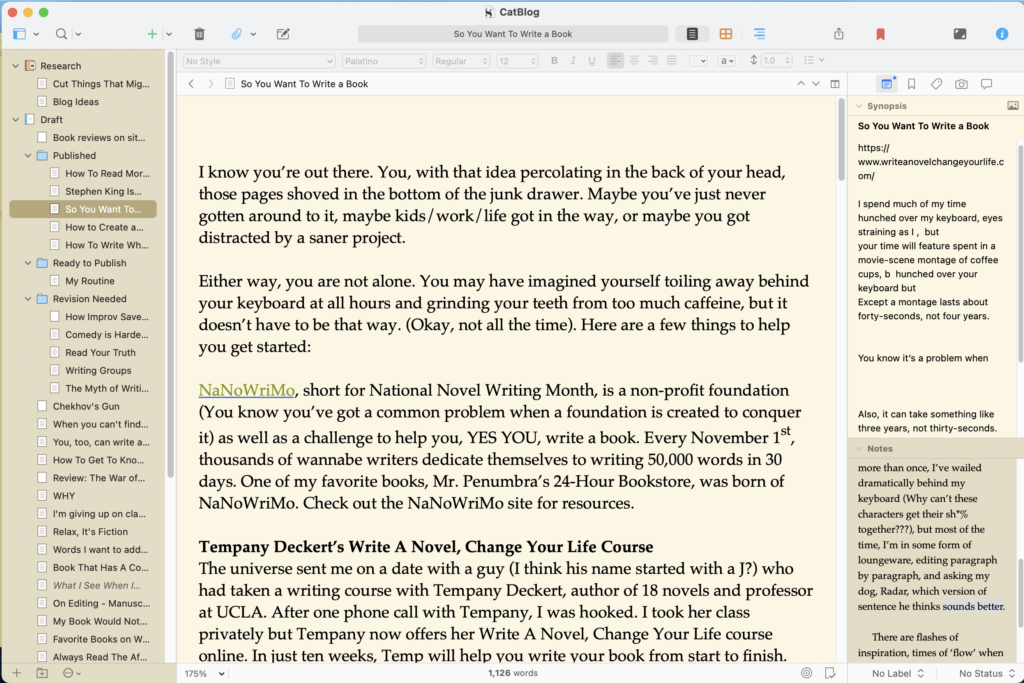 The Mac version is $49 and worth every penny.
"But I can't come up with an idea!"
When I tell people about my book, they ask how I came up with the idea. (Stay tuned). The truth is, I didn't come up with the idea. In the first version I wrote in Tempany Deckert's class, my main character, Tag was a playwright, not a novelist. He was an employee at a tech company, not a grad student. We first saw him standing on the edge of a rooftop. Now, we meet him right after his manuscript has been stolen. You get the point. It's iteration.
You do not have to start with THE GREAT AMERICAN IDEA for THE GREAT AMERICAN NOVEL. Just start with something. Anything. Take the pressure off. Write down the crappiest idea you can think of.
"But a novel is so long!"
You do not have to write a tome. Publishers are looking for short books! Yes, writing a novel may still take years of your life. You're going to be years down the road anyway, you might as well be there with a good book.
Write on,
-C
Noted historian, Thomas Fuller, once said, "A good salad may be the prologue to a bad supper."
Let's hope not.
Here is your first sneak peek at my can't-tell-you-the-name-yet novel. If you enjoy it, please let me know!
PROLOGUE
Eighty-five thousand, three-hundred and seventy-two words. Each one painstakingly typed, edited, and nurtured until all twenty-six letters of the alphabet came together to form his novel, his thesis, his first-born son. There was only one problem: Instead of eighty-five thousand, four-hundred and seventy-two words, Tag Maynard had none.
Tag tore through Columbia's Lewisohn Hall, one sneaker and one dress shoe thump-clacking against the floor, his laptop clutched to his chest. Papers leapt from the backpack slung over his shoulder. He rounded the corner to Professor Hawkley's office and found himself face to face with The Line of Last Chances: a grab bag of students in pajama bottoms, t-shirts, and distress. Tag darted toward The Gate of Hell or Hope. Shoes—all matching—pivoted in his direction. Knuckles whitened around coffee cups. Mouths grunted like revving engines. Red, spider-webbed eyes demanded his death or even worse, his condemnation to the back of the line. A glance downward connected his thumb to the lever.
Tag stumbled inside and slammed the door. His backpack slid to his elbow, then the floor.
On the far side of the desk sat Professor Winston Hawkley, a man whose nose suited his surname. His Oxfords were propped next to his computer monitor. Surprise disturbed his officious countenance.
"Excuse me," Hawkley said, gesturing toward the brunette girl seated between them. Her greasy top knot bobbed with her sniffles.
"It's fine," Sniffles said. She stood, wiped her nose with sweatshirt-mittened hands, and slunk out the door, leaving muffled sobs behind.
And then there were two.
A ball of what Tag hoped would remain nausea ping-ponged in his stomach. "My, my thesis, it's gone. Drafts, notes, my emails," he stammered. "They took everything!"
HOW HAD THIS HAPPENED? Tag hadn't let his laptop out of his sight for the past four years, much less the past twenty-four hours, aside from momentarily lending it to that hot girl at the library last night. This is what he got for being a consummate gentleman? Tag sagged toward the floor and gripped the leg of a nearby chair until the room stopped spinning.
"Please, you've got to believe me," Tag said, panting.
Hawkley crossed his ankles and peered over the edge of the desk. "Tad-"
"Tag."
"Right. Tag, see that line out there? They all want extensions-"
"I don't need an extension! I need to find the bastard who stole my work!"
"-and they've all got excuses."
Tag pulled himself upright and tried to catch his breath. "And their excuses are relevant to me because?"
"A manuscript is a lot of paper for a dog."
"Steinbeck's dog ate Of Mice and Men!"
"Is that so?" Hawkley's gaze drifted as though debating the thickness of manuscripts and the strength of canines' canines. "Fascinating. Nevertheless, Mice was, well, a mouse-sized work." Hawkley stifled a smile and shook out his wrist, bringing a gleaming silver timepiece into view. He eyed its face before finding Tag's. "Gift," Hawkley said. The watch slunk beneath his sleeve with another flick of his wrist. "I don't suppose you have any proof?"
"If I had proof, I'd have a thesis." Tag dug his nails into his scalp. "Please, I'm sorry, okay?" He indicated the monitor with his nose. "If you look it up, you'll see I turned in every chapter, both sets of edits, character arcs, everything."
Hawkley sighed and pulled his keyboard close. He plucked the 'T,' 'A,' and 'G' keys in a perfect airline-agent performance, then raised his brows toward Tag.
"Maynard, "M-a-y-n-a-r-d," Tag said.
"Sometimes this kind of thing does happen." Hawkley spoke as though referring to a flat tire or an overcooked steak, "People get desperate right before graduation and buy another student's work. 'Course, it's hard to get away with actual thievery nowadays. Usually, there are notes, drives, clouds-"
"Everything has been cleaned out."
"-IP addresses, bits, firewalls, bandwidths-"
"Those are just internet words!"
"You have hit every deadline this semester." Hawkley clicked the mouse several times.
"Tag, have you been getting enough sleep?"
Enough sleep? I'm a grad student.
"Grades aren't supposed to come out 'until next week but it seems the TA's have already graded your work," Hawkley said. "Congratulations. 92."
Tag cocked his head. "That can't be right."
"The Trusting of Giants. 92." Hawkley turned the monitor toward Tag, its base screeching against the desk. "Why do all my students want to debate an A-? In my day, we-"
"The Trusting of Giants?" Tag neared the screen until it became pixilated. His stomach twisted. "That's not my book."
"-We worked for our grades but kids these days, so entitled." Hawkley froze. He pulled his feet from the desk. "Excuse me? What did you say?"
Tag's throat rolled up like wrapping paper. He fanned himself with his t-shirt but nothing would stop the sweat from pouring, the blood from pounding, the HOW and WHY and PANIC and AHHHH from flashing across his mind.
"Mr. Maynard, have you been turning in someone else's work?" Hawkley reached toward a black phone on the far corner of his desk.
Tag watched as dust appeared to float off the phone, the specks multiplying until the room faded into a haze of heather gray. Hawkley squawked in the distance, "A serious offense… no second chances… I do hope… Mr. Maynard? Tag, you with me?"
But he wasn't.
ONE
'Cold and dark.' Those were the tame words Tag had used to describe his basement for his eigth grade creative writing class. When he presented his inadequate wordsmithing to his best friend's mother, author extraordinaire, Mrs. Sarah Taline, she blindfolded him with her scarf and marched him down their cellar stairs. There, he discovered silted stones that stuck out from the wall like jagged, unwashed teeth; a mothball scent so pungent, he could almost taste it; and an eerie, concrete chill that sank into his bones.
Eighteen years later, he was blindfolded again. 
Tag detailed his surroundings for what would be, should he survive, the impending police report: Spiral steps, their centers eroded from years of use. Too loud for carpet, too slippery for wood. Stone, perhaps? He shuffled sideways until his palm met the wall. Grainy but clammy, as though it held a slight fever. Brick. The air cooled as he descended. When a lift of his chin found the faintest flicker of light, Tag began to catalog the descriptions: Benumbing. Tenebrous. In other words, cold and dark. 
Tag recalled the events that had led him here. The pub below his apartment. He'd left his drink to go to the bathroom but the bartender had kept an eye on it, right? Later, Tag had stumbled into bed and dreamless sleep before waking in a vehicle, blindfolded and wrists bound. Pulled from the car, his screams had been smothered by a thick hand; his kicks and jerks, weakened by narcotics. 
The deadly clinks of a lock and a door opening brought him to the present. Hands set him on his feet and slipped from underneath his arms. 
"Come on," said a voice. Heavy and scabrous, the syllables were drawn out as though the abduction of a 6'1" shaggy-haired Columbia grad had been a chore delayed until necessity trumped inconvenience, like changing one's sheets.
Either his abductors were murderers with a procrastination problem or they wanted something, but Tag, as they had ostensibly discovered, boasted the contents of a shitty studio apartment. What then, revenge? He'd had a tab at the pub 'on good faith' for the last year but too many Maraschino cherries, Tag reminded himself, DID NOT NECESSITATE KIDNAPPING. DEAR GOD, WHAT WAS IT? Was it Tom, the father of his ex-girlfriend, who'd never failed to mention his underground bunker and extensive gun collection? 'No one would miss you,' he'd said. Or a prank by Paul? Paul would be the usual suspect except FRIENDS DON'T ROOFIE EACH OTHER.
The scrape of wood against stone. A medley of clearly non-kidnapped voices. Another door opened and shut, taking with it the festivities and potential escape. A chair dragged over the carpet, then stopped, and Tag knew he was not alone the same way one knows when a 'nothing' is really a 'something' in the middle of the night. The flip of a switch brought a mustache of light beneath his mask. Tag tilted his nose upward and puffed his nostrils: A midnight carpet, its sheen cheetah-patched where pushed against the grain, peeked out beneath embroidered throw rugs. Baseboards of ornately carved wood anchored antique filing cabinets.
"Sit," said the voice. A downward force on Tag's shoulder. A clip of the ties on his wrists. "You may remove the blindfold," the voice added. 
Tag steeled his breath and removed the mask. Glass lamps, shaped like open, upside-down books, hung from the ceiling at various heights. Rich, stenciled wallpaper covered the space between shelves. He blinked but the massive executive desk and gold-trimmed throne in front of him, while perfectly suited to a subterranean villain, remained empty. 
Tag had just turned to locate the criminal who surely stood behind him when a hand with piano wire tendons clasped the edge of the desk. A white combover rose into view before the man beneath it jolted upright wielding an ornate, silver and red pen as though it held an idea. 
"Found it!" said the man, wrapping the pen in his fist. He had a craggy look: Deep lines undulated above prominent brows. His silver-blue stare was as sharp as his nose and a ruddy, mottled hue broke over his cheeks. He donned a salesman's smile and shoved a stiff arm over the desk pad. "Hellllllllo, Mr. Maynard! My name is Allister." 
"You're not going to hurt me?" Tag said. 
"Most certainly not," Allister said, "and I'm sorry about your eye." 
Tag pressed the soft spot beneath his left eye. Nothing. He tried his right. Ow. 
"We're a bit out of practice. Hard to find quality… help these days," Allister said. When Tag did not move to meet him, Allister placed his hand at his side, tea-pot style, and sat. The chair's cushion let out a whoosh. "Well then," Allister continued, "thank you for coming to meet us. I know it was an atypical journey and I do appreciate your understanding as we do find ourselves under atypical circumstances." 
Allister's voice was measured and friendly. Not the voice that brought me here. 
"What do you want from me?" Tag said.  
"I understand you've met Finny," Allister said. Tag followed Allister's gaze to the corner about ten feet behind, where a slight, jowly man with thick, gray hair and a shadow of a beard reclined against a dimly-lit bookcase. Though his tweed suit gave off a stately, welcome-to-my-private-collection vibe, the angle of his brows said Do Not Touch.
"Finnegan," Finnegan said gruffly.
Bingo.
"Can we get you anything, Mr. Maynard?" Allister said. "Water? A libation, perhaps? Our bartender will make you anything you like."
"Who are you?" Tag demanded, turning to his host. "Allister who?" 
"Ooh! Mckinna. Allister McKinna."
"The son of The Great Lawrence McKinna," Finnegan added.
Allister huffed.
"The Lawrence McKinna? Lawrence James McKinna, the author?" Tag said. Lawrence McKinna had a quiver of forty-two; three of which comprised the Shadows In The Fog trilogy. Exalted by both readers and critics alike, Shadows was as ubiquitous as toilet paper. "Lawrence is your father? I thought he was young-er, younger." Tag swallowed.
Allister laughed, peppering the desk pad with spittle.
"Fictionally, he's fifty-two," Finnegan said.
"Let me back up here, if I may?" Allister said. Finnegan surrendered the floor with a particularly affected bow. Allister mimicked him as much as the desk allowed. "To clarify, the true Lawrence McKinna, not the corporeal figure-"
"Corporeal figure," Finnegan said. "Redundant."  
"Again," Allister said. He pointed above and behind him, where velvet curtains framed a faded portrait of a forty-something man with flared nostrils and hair that matched his own. "The true Lawrence, not the man-person on the book jacket," he winked, "is indeed my father. And yes, he is 'famous' and now 'old,' and, I'm afraid, the reason you are here."
"Which is?" Tag said, glancing around, "And where is here?" 
"Finnegan, did you tell the boy nothing?" Allister's palm stretched from chin to forehead, "Mr. Maynard. Tag? May I call you Tag? While I cannot disclose our exact coordinates, you are, as you may have gathered, somewhere underneath Manhattan. And we," he opened his arms skyward, "are…"
***
Wait, that's the end of chapter one???
No, but that's it for now! Stay tuned for more sneak peeks and updates!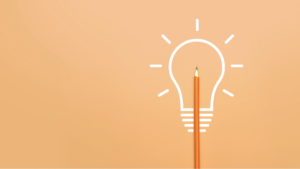 When I tell people about my book, they ask how I came up with my idea.
(It's about a secret literary society, but the specifics, at the suggestion of Publishing People Smarter Than I, will remain under wraps…. unless you want to buy me a cup of coffee. Otherwise, stay tuned for excerpts.)
Want to come up with a genius story idea?
Start with a really crappy one.
I started my book in a one-on-one, virtual version of Tempany Deckert's 'Write A Novel, Change Your Life' class. I'd written a story about a girl who was lost in the woods and was about as lost as… a girl in the woods. Something didn't resonate. I called Tempany.
"Well, we're halfway through the class," she said, "but why don't you throw out all your hard work and start over in a total panic?" (Those may not have been her words, exactly, but that's what I heard.)
I was in Copenhagen at the time with a Soon To Be Ex-Boyfriend. The morning after The Phonecall, over breakfast of cold cuts and øllebrød, I unleashed my ingenious creativity.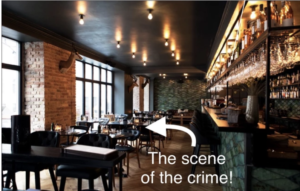 "I've got nothing," I said.
"Well, what do you like?" said Soon To Be Ex-Boyfriend.
"Books," I replied.
"Like?" he said.
"Mr. Penumbra's 24-Hour Book Store."
"What about it?"
"The secret society aspect."
And thus, an idea was born. The thing is, my idea still stunk. It was vague. What I didn't realize at the time was that it didn't matter. Unless you are Super Crazy Talented, you will not write your manuscript in one draft. Your characters and, consequently, your story will evolve, so take the pressure off and start.
In the original, panic-induced attempt of what is now my book, my protagonist, Tag Maynard, was a playwright, not a novelist. He was an employee at a tech company, not a grad student. We first saw him standing on the edge of a rooftop. Now, in the prologue, we meet him after his work has been stolen. Not only did my main character change his passion, his job, and his eye color, but each draft acted as a funnel, resulting in a niche idea I would never have come up with at the beginning.
That's great, but I'm still stuck.
If you're lacking a Soon To Be Ex-Boyfriend to bounce ideas off of, I've got you:
Write down the crappiest idea you have.
Ex: "A penguin who eats fish."
Cool, everyone loves penguins.
Now, play the 'What if?' game, ten times.
What if… those fish have toxins in them?
What if… those toxins have an LSD-like effect?
What if… the penguins break out of the zoo like that virus did in Wuhan, procreate, and ALL OF A SUDDEN YOU HAVE A PANDEMIC OF PENGUINS, high on acid-anchovies?
What if…. they weren't penguins, but humans, slowly micro-dosing themselves through sushi?
You get the idea.
Let's play one more time, just for kicks.
What if… your next great idea is just a few iterations away?
What if… you just start?
Write on,
-C
Author and New York Times columnist, Anna Quindlen, once said,
"Every story has already been told. Once you've read Anna Karenina, Bleak House, The Sound and the Fury, To Kill a Mockingbird and A Wrinkle in Time, you understand that there is really no reason to ever write another novel. Except that each writer brings to the table, if she will let herself, something that no one else in the history of time has ever had."
Key words: If she will let herself.
When I first started writing, I approached the keyboard like a box of Krispy Kremes. I wiggled my fingers and tried to avoid temptation.
I want my main character to do XYZ but I don't know how to justify it.
Eventually, afraid of wasting time and words, I'd smack my forehead against the desk, cry 'It just doesn't work!', and move onto something that did. The result? Bland, cliché writing. Only when I stopped worrying about 'how to make things work' did things get interesting. The lesson? Write unrestrained. Future You will figure out the 'how.'
Yes, you will write yourself into corners. You will, inevitably, want to chuck your greasy-keyed laptop out the window when, after writing 30,000 words, you realize, 'My protagonist couldn't have committed the murder! He was thirty miles away from the crime scene, eating a donut!'
It's the creativity required to justify that Impossible Scenario that will make your work stand out. As for the fear of being too 'wild,' well, if you don't put it all out there, there might not be anything worth reigning in.
That's great, but what if I can't get 'wild'? And let's say I do get myself into a corner. How do I get out?
Everyone is different but here are three things that have have helped me think outside the box in regards to writing and General Problem Solving in Life.
Play the 'What if…' game.
When you get stuck, write a quick synopsis of where your characters are, then ask yourself 'What if…' and scribble down whatever comes to mind. Do this at least ten times. The goal isn't necessarily to find the answer but to find the next step that will lead you to it.
Turn on the voice recorder on your phone and talk it out.
Interview your characters, play 'What if…,' or explain what is going on in your story as if you were telling it to someone else.
Let out your inner Aminal.
This is one of the best writing tips I've received in regards to unleashing creativity. It is also the weirdest. My writing coach, the all-powerful Tempany Deckert, told me to draw a fantastical animal. Meet Aminal: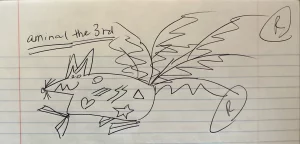 Then, Tempany told me to write from his perspective. By God, is that Aminal creative. This technique was so effective that for two years, I kept a sticky note on the top left corner of my laptop that said, 'Let Aminal Write.'
Still stuck? Call me. We'll figure out how to unleash your inner Aminal over a box of donuts.
"TV really is about the last thing an aspiring writer needs,"⁠ said Stephen King.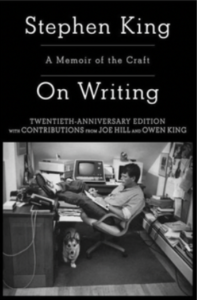 (A warning to my readers: I talk a lot about Stephen King. He fascinates me, both as a brilliant writer and a brilliant writer about writing.)
The thing is, Stephen King is wrong, *she said humbly*. Here's why, from an undisclosed location.
A good T.V. show is a study in tightness.
Novels allow wiggle room: Anecdotes and descriptions can slide by undetected in a crowd of 400 pages. When you only have twenty-two minutes to tell a story, there is little room for superfluous words. The writer must pack in several character arcs, a dramatic culmination, and god-willing, a satisfying ending that leaves the viewer wanting more.
An example of good TV: Frasier, the 90's TV series built around former Cheers supporting actor Kelsey Grammer, evolved to a radio psychiatrist in Seattle. The writing is tight, even the supporting characters are fleshed out, and much is said in what is unsaid.
Example: Frasier meets Faye on a blind date.
Frasier: Of course I love Boston but well, there's no place like home.
Frasier's mobile rings.
Frasier: Excuse me. [into phone] Yes, hello? Uh, yes but you know
what, I'll just have to sign those papers later, thank you.
[hangs up] Office work.
Faye: That was an escape call, wasn't it?
Frasier: No! What are you talking about?
Faye: Come on, it's a blind date. You wanted a way to back out.
Frasier: Oh, gosh, you are sharp, aren't you? How did you know?
Faye's mobile starts ringing.
A lesser writer would have had Faye answered Frasier's question. By having Faye's phone ring, they're showing, not telling. There are no extra words and there's an entire story in that ringtone.
Write your book as tight as a good T.V. show and you're in business.
King is right in one sense: Not all T.V. is good T.V. — though bad T.V. is just as instructive. Of course, it demonstrates what not to do.
Bad T.V. disregards the Golden Rule of writing, previously noted: 'Show, don't tell.' Someone will inevitably shuffle into a scene and say something taken from a book of Mad Libs:
"If we don't get this THING to the LOCATION, the TERRIBLE THING will happen!"
Exposition removes the reader or viewer from the waterfall of dramatic events.
The playwright and former writer/director of the CBS show, The Unit, David Mamet, once wrote a hilarious memo to his writing staff on exposition and what makes good drama. (If you haven't read it, it's a must.)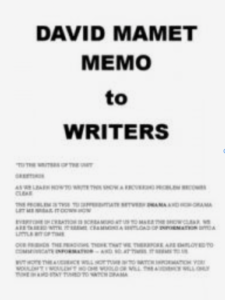 He offers such gems as:
"ANY TIME ANY CHARACTER IS SAYING TO ANOTHER "AS YOU KNOW", THAT IS, TELLING ANOTHER CHARACTER WHAT YOU, THE WRITER, NEED THE AUDIENCE TO KNOW, THE SCENE IS A CROCK OF S***.
"ANY TIME TWO CHARACTERS ARE TALKING ABOUT A THIRD, THE SCENE IS A CROCK OF S***,"
"THE JOB OF THE DRAMATIST IS TO MAKE THE AUDIENCE WONDER WHAT HAPPENS NEXT. *NOT* TO EXPLAIN TO THEM WHAT JUST HAPPENED, OR TO*SUGGEST* TO THEM WHAT HAPPENS NEXT."
I guarantee that from here on out, you will not be able to hear a character say, 'As you know,' or, 'We've got to get the DOG to the BANK before the WORLD EXPLODES!' without an exposition flag flashing before your eyes.
Maybe you'll feel the need to shout out, "Crock of S***!"
Sources:
King, Stephen. Stephen King on Writing a Memoir on the Craft, SIMON AND SCHUSTER, NEW YORK, 2000, p. 148.
"David Mamet Memo to Writers"